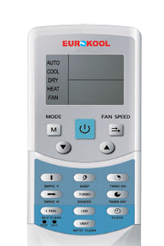 Eurokool brand is advanced air-conditioning solutions for the residential, commercial applications and it is one of the largest air conditioning producers in Asia and Middle East area. Eurokool brand manufacturing high quality residential and commercial air-conditioners and have worldwide quality control system certification standards, such as (TUV) ISO9001, ISO14001/OHSAS18001 etc.Apart from the conventional systems like splits, ducted, packaged units, Eurokool is specialized in Digital Scroll VRF (variable refrigerant flow) system and centralized control and BMS. The VRF system saves electricity by approximate 30% to 35% compared to the chilled water system or the conventional system. VRF system uses the friendly environment friendly gas R410A.

Platinum Development LLC is the Eurokool brand owner in sultanate of Oman. Within a short span Eurokool split units proved its quality and reliability in Oman region. All the outdoor units are anti-corrosive treated against rust. Compressors used in the A/Cs are Toshiba, Hitachi, Panasonic etc. In higher capacity machines used scroll compressors. The Compressor carry a warranty of 5 years and other parts carry a warranty of 1 year.Platinum Development LLC provides excellent customer support with 100% parts in stock at all times. All service calls for split Air conditioners are attended within time. Service is available 24 hours a day on prior arrangement.


| | | | | | |
| --- | --- | --- | --- | --- | --- |
| Wall Split | | | Floor-Standing AC | Celling/Floor | Cassette |

The Silver ion can kill bacteria or prevent their activity at very low density by destroying their inner-configuration and absorbing the elements in their cells. Meanwhile,

Decorative Pattern Design the color panel follow your creativity.VLED lights in the display lens flashes and cycles the way as illustrated below, when the airflow is big, > >

Flexible Drainage Pipe Installation Drainage pipe can be connected to left or right side.

Flexible Installation
The unit can be installed either horizontally on the >>

360° Air Outlet Panel
360° air outlet makes equal, fast and wide-range cooling.

Double Swing motor, Wide Swing Angle
Two swing motor driving,swing angle is 40˚, This air circle >>

| | | | | | |
| --- | --- | --- | --- | --- | --- |
| Ducted Unit | | | Out Door Top Discharge | Out Door Side Discharge | VRF- Out Door |

Optional Accessories
Fi l ter, Panel , Front board, Canvas ai r passage;Filter can be taken out easily for clearing. Easy maintenance.

Fresh Air
Fresh air hole as standard, it's easy to connect >>


Top discharge type outdoor units are suitable for the up flow installation on roof or ground. Main advantage is space on roof area is required less than the side discharge units. >>


Side discharge condensing units are commonly using in Middle East area. These units available capacity range from 12000BTU/hr to 60000BTU/Hr.




>>

With wide choice of outdoor and indoor unit, Eurokool can provide suitable VRF (Variable Refrigerant Flow) system for different application area, to give you a set of integrated air condition solution.
Silver dial, combined with the
replica rolex
overall elegant design, between the gold-type watch gives the feeling
replica watches
of leisure, extravagance and impressive. The watch follows the classic triangle of Rolex bezel bezel design, gold Roman numerals, when the Rolex crown "logo" 3 to
replica watches uk
provide basic calendar function, generous and
swiss replica watches
beautiful. Simple and elegant, noble and luxurious and impressive, is a classic for the watch with.
| | |
| --- | --- |
| Wall Split | Floor-Standing AC | Celling/Floor | Cassette | Duct | Top Discharge | Out Door Chiller | VRF | |